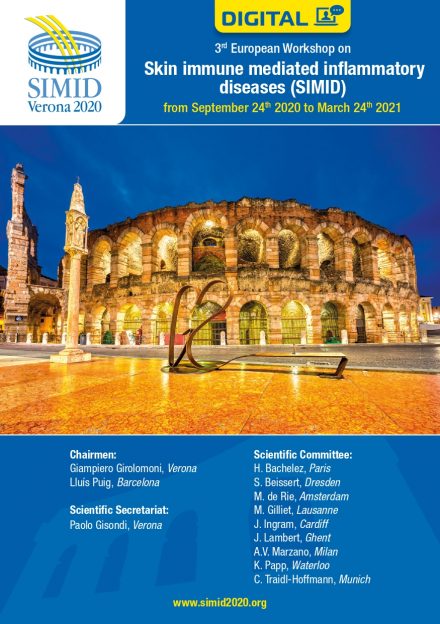 Dear Colleagues and Friends,
We are honored to welcome you at the 3rd European Workshop on Skin Immune Mediated Inflammatory Diseases (Digital SIMID).
The Workshop is aimed to comprehensively discuss SIMID form basic mechanism to therapy. Specifically, the Workshop wants to emphasize a discussion, which drives new research on common pathogenetic pathways and on the use and need of new anti-inflammatory and immunoregulatory drugs.
Inflammatory and immune-mediated diseases have a great prevalence and relevance to general medicine, internal medicine and dermatology. Common pathways in diseases affecting different organ are being elucidated and many new treatment options are becoming available, increasing the need of forums where basic, translational and clinical researches are presented together.
In consideration of the ongoing COVID 19 outbreak, the 3rd SIMID Workshop has been converted into a Digital meeting. Therefore, the meeting will be held in a digital web platform, where registered people will have the possibility to watch lectures, download the presentations and directly ask questions or make comments to the lecturers. CME credits will be provided.
Kindest Regards,
Giampiero Girolomoni
Lluís Puig
Paolo Gisondi
Register and submit your abstract on the website: